DESIGNED FOR OLDER ADULTS
Keeping fit is essential at every age
Designed for senior adults looking to promote their health and fitness.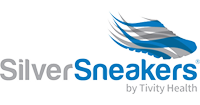 Wide ranges of low-resistance exercises that help you get active, and feel great while improving overall well-being, strength and social aspects.
We are an authorized Silver Sneakers® partner.
SilverSneakers® is a health and fitness program that's included with many Medicare Advantage and Supplement Plans.
Click below to contact us to learn more and see if you qualify.
Join Iris at the club for Silver Sneakers workouts!
CLASSIC
 @10:00am
with Iris 
CIRCUIT
 @11:00am
with Iris 
STABILITY
 @9:00am
with Iris 
BOOM MUSCLE
 @10:00am
with Iris